Bird Life
---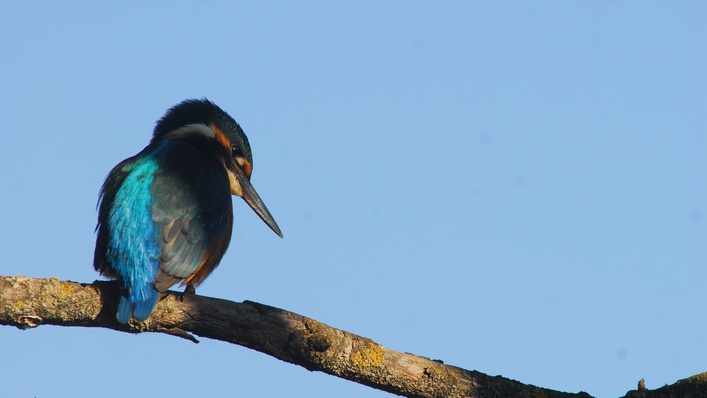 In the northern part of the Baixo Guadiana (to the south of the municipality of Mértola and in the municipality of Alcoutim), there is strong possibility that you will see some typical grassland species, such as little bustards, lesser kestrels, and black-bellied sandgrouse. The region is one of the most important in the country for Eurasian eagle-owls and is regularly visited by large diurnal birds of prey, such as the golden eagle. Many different migratory birds nest here, including little ringed plovers, rufous-tailed scrub robins, melodious warblers and, of particular interest, white-rumped swifts, a rare species in Europe. Heading down the Guadiana, on the banks of the Odeleite there is a good chance you will see bee-eaters during the months of April to September, this being the time of year when there is an abundance of the bees that they feed on. As you go even further downriver towards the south, you come to the Reserva Natural do Sapal de Castro Marim e VRSA (Marshland Nature Reserve), which is one of the most important wetland areas in Portugal (Ramsar Zone and IBA – Important Bird Area). Characterised by extensive marshlands, the inlets, banks of the River Guadiana and salt pans are a prime spot for water birds, whether for nesting, wintering or a resting place during migration. Such is the diversity that over 200 species can be found here over the course of the year, with nesting populations being the easiest to spot. These include white storks, pied avocets, black-winged stilts and stone curlews as well as other very rare species such as the little bustard, the Audouin's gull and the lesser short-toed lark. During migration seasons, you can easily see large flocks of greater flamingos, spoonbills, black-tailed godwits, black-necked grebes, slender-billed gulls and purple herons. Another important wetland area is the Ria Formosa (Formosa Estuary), where some 30,000 birds and 300 species are to be found every year. Indeed, thanks to some of these species, the Ria Formosa is considered to be of importance on a European scale, in similar fashion to the Doñana Park in Spain, where there is an abundance of waders and ducks. The Estuary begins at Ancão Beach in the municipality of Loulé and stretches for 60 km, all the way to the localities of Manta Rota and Cacela Velha in the municipality of VRSA. For ornithology aficionados, the Baixo Guadiana routes are unique places, since the geographical setting close to the Alentejo to the north means that there is a chance of seeing species from both a grassland habitat and the Atlantic coastal strip. The rivers which flow into the ocean, the marshlands and the region's strategic geographical location (sub-tropical latitude), make it ideal for winter migration and lead to the region being a bird-watching paradise.
Algarve Goat
---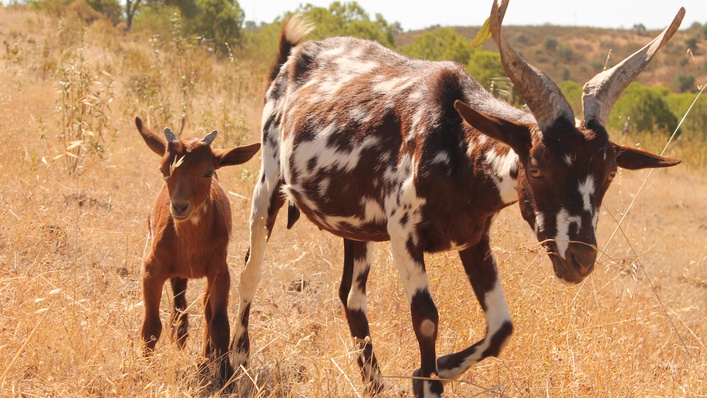 It is a predominant animal in the Northeast and the Southeast Algarve although it also exists in the Alentejo. The Algarve goat resulted from the intersection of Charnequeira Algarve goat with the Alpine Goat Spanish, and inherited this polychrome coat and the dairy potential. It´s a rustic goat that adapts well to the environment where you live, even if harsh. It is a productive, intelligent, gentle, bright brown animal with white spots. This race is simultaneously used for the production of meat and milk. The Algarve goat has a short, white fur, with brown patches of various shades, black or, more rarely black and nuts; the mesh can be well defined or replace by the uneven spread of the brown or black in white coat; infrequently-haired animals appear at the level of broadsides, abdomen, hind limbs and rarely forelimbs They are animals with strong and well upright members. The weight in males varies between 60 to 70 kg; and females between 45 to 55 kg.
Chameleon
---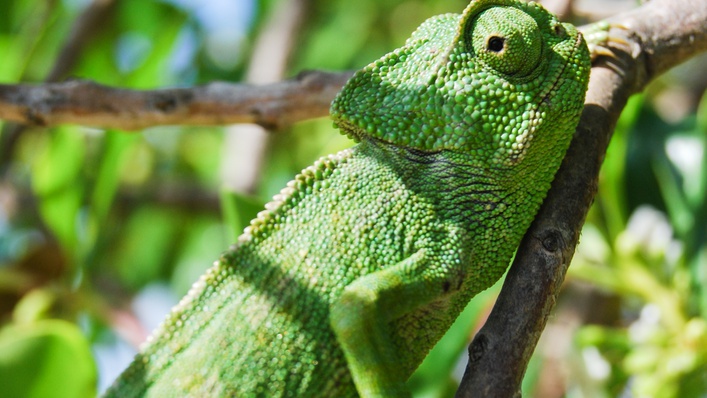 In Monte Gordo Mata (Forest), and in small isolated clusters that spread mainly by eastern Algarve, survive the ultimate Portuguese populations of common chameleon. This family of reptiles (Chamaeleonidae) is originally from East Africa, and is thought to have appeared about 60 million years. The world has over 150 species of chameleons (only the island of Madagascar is home to 40%), but only one, the common chameleon (Chamaeleo chamaeleo), occurs in Portugal. Its origin in portugueses land continues to be controversial, although data point to that has been introduced in the pine forests of Monte Gordo and Vila Real de Santo António, around 1920. The common chameleon is a reptile with prehistoric monster looks, mysterious and full of curiosities. Rarely reaches more than 30 cm in length, it´s body is coated by granular scales, and head protruding bony ridges that give it an unusual look and make it unmistakable. It is a diurnal animal, arboreal, who walks slowly and hesitantly, by the branches of trees. Clings firmly to their pentadactyl feet (two toes directed to one side and three to the other, united in two opposable groups that form a kind of tenacious) ending in sharp nails and assists with its prehensile tail, which helps to hold on to the branches. The eyes, situated in inserted conical elevations in their sockets, can move independently and allow a stereoscopic vision, which is of great use in the location of prey (since they can follow with their eyes, even when the body is completely immobile). When they are harassed and feel threatened, their color turns darker, swell the body to appear larger, open their mouths and blow menacingly, but, in fact,they are completely harmless. These eaters of insects (flies, butterflies and grasshoppers, etc.) are ambush predators. Camouflage, patience and raids are the trump cards of this animal. As an arboreal species, requires shrubs such as Retama (a type of broom) and can also be found on the maritime pine and fig trees on-the-pita thorny, also known as "aloes." Most individuals die before the end of the first year of life: they were born in August and after one year has reached sexual maturity and are ready to reproduce. in Revista Super Interessante, nº 149, Setembro 2010
Wild Rabbit
---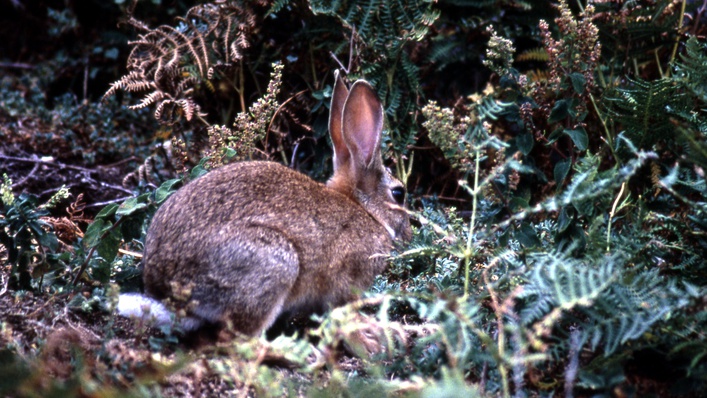 Inserted in the order of lagomorphs (small herbivores much akin to rodents) and Leporidae family, the wild rabbit is an animal of "plump" body, weighing 1 kg to 2 kg, large ears and small white color tail. This species prefers areas where the grass is plentiful, preferring dry, sandy soils, easier to build pits. Its diet consists mainly on herbaceous plants, roots, stems, grains and bark of some trees. It´s an animal of nocturnal habits, although they can be seen during the day. They live in colonies, in large and highly branched galleries. Despite reproducing almost every year, there is a time when reproductive activity is higher (March and April). The gestation period is 28 to 30 days and each female has, on average, two to four litters per year. Each litter is generally two to seven young rabbits, which are born blind, deaf, hairless, weighing about 60 g (duplicate value after two days). The development is very fast, with the hearing aid completely developed to eight days and opening his eyes to ten days.
Hare
---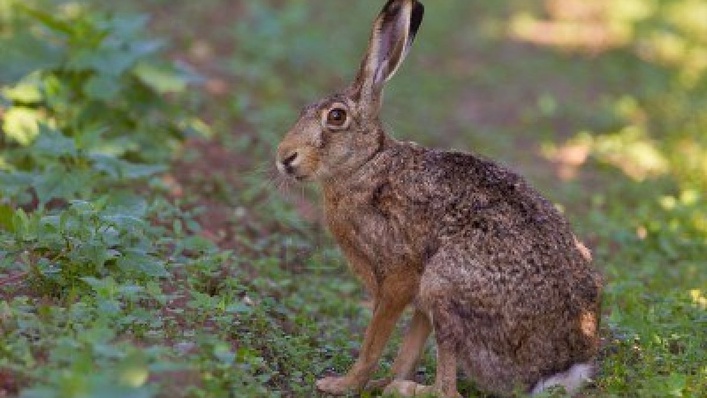 Belonging to the same rabbit family, it´s easily distinguished by being higher (measured between 50 to 60 cm) and heavier (2 kg to 5 kg). With hind legs more developed and better equipped for the race, can reach speeds of around 60 km/h and is also a good climber and swimmer. Like its relative, is an animal of noctural activities,however, their habits and social behavior are very different. Solitary lives outside the breeding season in a well-defined territory and "eyespot" either in protected groves or in open terrain, with appropriate vegetation. Typically has three litters per year.The gestation period is 42 to 44 days and litter consists of one or two lebrachos (rarely three), which are born with eyes open and hair, and breast fed up to three weeks. The hare has a separate and very curious feature: it is able to keep alive inside the male's sperm and may be pregnant twice in succession, with one mating. The current population in the Baixo Guadiana is reduced, partly due to the illness of hemorrhagic syndrome hare and the high rate of pedestrian accidents night suffering on the road (at night attracted by the lights of cars Hare becomes an easy target). Image: DR Hypescience
Flamingo
---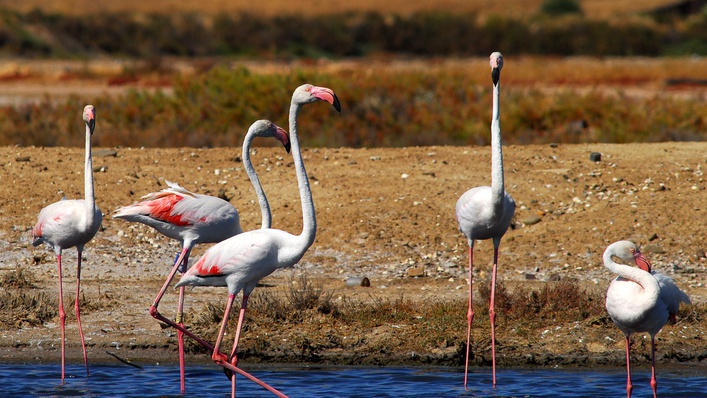 Bird with long legs and neck, Flamingo belongs to Phoenicopteridae family, Phoenicopteriformes order. The largest member of the family is the Phoenicopterus ruber, which is found mainly in Africa, the Caribbean and South America, with rosy plumage and a height of 1.25 m. Examine the mud in search of food with short beak, thick and curved, forming colonies in which individuals make their nests in mud mounds of conical shape, with a small recess for the eggs on top. In Portugal, this species can be observed in large numbers in the autumn months, although birds do not stay here for breeding throughout the year. The Castro Marim marshes, the estuary of the Guadiana, is one of the busiest areas for this species, along with the estuaries of the Tejo and Sado rivers
Boar
---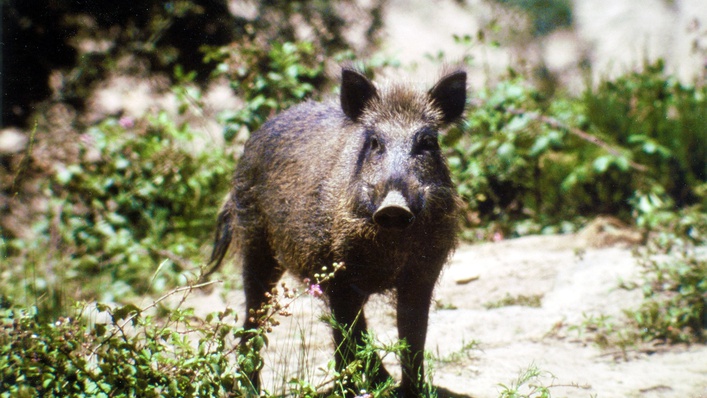 Belonging to the Suidae family, the Boar or "javato", the name by which he is known in the area, is the only species in addition to the domestic pig, present throughout Europe. The appearance of the Boar is similar to the domestic pig. It features a sturdy body, covered by dark brown hair hard, strong, short legs, long tail slightly, but not in the form of thread, as its domestic relative. In adult males, stand two large lower canines, known in the area for "gudgeon pins". As for size, females are smaller than males. An adult male can exceed 100 kg. Its adaptability allows him to dwell on the steeper areas of Baixo Guadiana. During the day takes refuge in areas of intense woods such as cistus bushes and dense areas. It has an omnivorous and incredibly varied diet because, although consume large amounts of roots and dry fruits, also eat insects, worms, rodents, reptiles, etc. The evening ritual: remains active from dusk to dawn, resting during the day. The male usually leads a solitary life, while the female stays together with their offspring forming a stick, which occasionally can integrate several family groups. Males and females only come together once a year during the mating season, which takes place between the months of November and December. Every male may cover several females, triggering violent struggles when another male crosses the road. Following pregnancy, which lasts for four months, stop female offspring from two to six depending on the age and weight of the mother. Small suck boars for three to four months. Males leave the group only when the pups are a year old, reaching up 50 km away in search of new females to mate and give thus continue the exchange of genes between populations. In "Baixo Guadiana, Caminhos do Património", Odiana, 2004
Partidge
---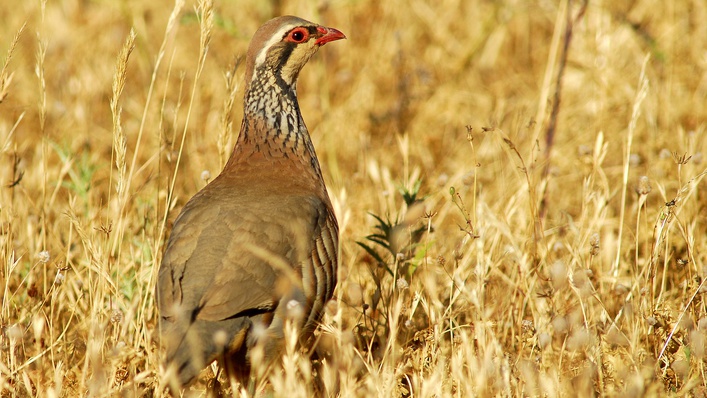 It is not unusual to be surprised by a flock of partridges crossing the road in the Baixo Guadiana. This specie, much coveted by hunters, is often the subject of game/hunting management programs. With its galináceo look, the partridgeis almost unmistakable. The plumage is composed of shades of gray, black, white and red. Highlights include the black fringed white throat, the red belly, red beak and red legs. Juveniles are brownish. Very unusual too see the partridge in the coast areas. It occurs mainly in open or sparsely wooded areas, avoiding urbanized areas. It is a resident specie, which can be observed throughout the year in the Baixo Guadiana, especially in Alcoutim.
Oyster
---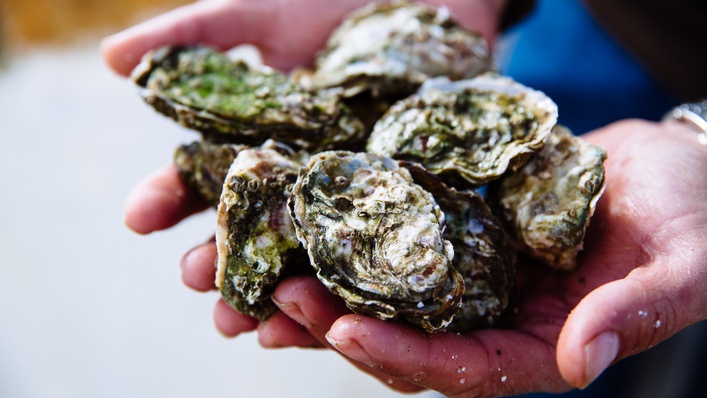 The oyster (ostrea rivularis) is a bivalve mollusc species belonging to Ostreidae family, with one of the flat valves and the concave other, joined together by an elastic ligament. The mantle coating inside the shell protects the inside of the body, including the respiratory, digestive and reproductive organs. Oysters modify the sexual gender annually (or even more often) and females can lay up to a million eggs during one breeding season, which greatly facilitates its inception in nurseries. This species has today a great gastronomic value, according to records, was already known in Roman times. It lies in Ria Formosa, and it´d a fantastic delicacy of the territory. Imagem: DR PUBLICO